---
Auto Cartoning Unit
TYPE CARRIERS FOR C-23
Our carriers are made from a tool steel blank that is ground and hardened after machining. The design of the holder includes a groove for a .060 pin along the front locating surface. This pin will help locate notched type to keep every number and letter in the proper direction and all at the same level for consistent and even marking. It also acts as a safety retainer to prevent the type from falling out if the end plate retaining screws become loose or fall out during production.
C-23 Carrier C23350007 (includes end plates and pin) $440.00
Spare end plates $50.00
Notched type Letters and numbers $8.50 per piece (minimum order 25 pieces)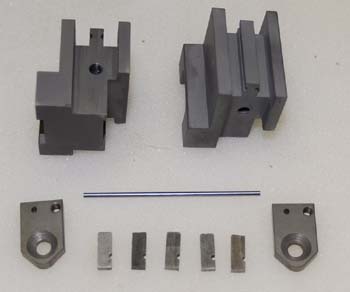 Note: Standard IMA type will fit in these holders with the pin removed.

New style lot number pad holder. Allows the lot number stamp to be placed at the extream outer edge of the carton. $345.00
Replacement pads $32.00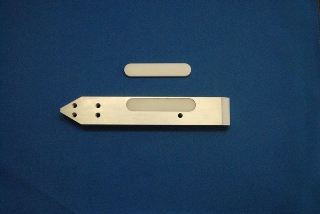 Pusher comb with adjustable tooth for 16 count -20 count carton. $15.00
Tooth $42.00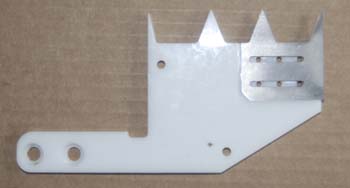 C23FOA716 STACKER BAG SUPPORT FORK $182.00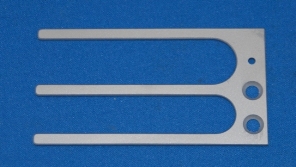 H & H makes a fully adjustable modular stacker segment basket that comes as an assembly made from 7 separate parts. These parts consist of a base plate, back plate, platform and 4 arms. All the parts are made out of 6061-T6 billet aluminum. This assembly allows bent arms to be removed and replaced in less than a minute while the base is still attached to the machine.
1 Unit complete and assembled. FOR 60MM $550.00
Individual replacement parts
Base mount C23FOA719 $175.00
Basket back plate C23FOA723 $137.00
Wide arm C23FOA722 $76.00
Narrow arm C23FOA721 $72.00
Support Plate C23FOA720 $188.00
A full set of parts to fit one machine (4 baskets) $2000.00
Note: does not include screws or washers.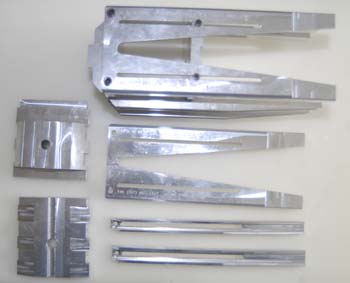 C20190144 STACKER FORK SPRING MOUNT $165.00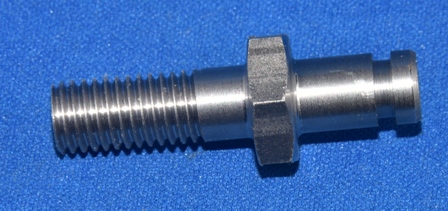 C20190191 10MM SPRING MOUNT (FOR BAG HOLD DOWN FORK) $87.00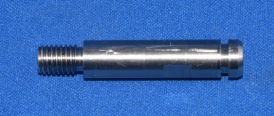 8MM SPRING MOUNT (OVERWRAP ROLLER HOLD DOWN ARM RELEASE KNOB) $72.00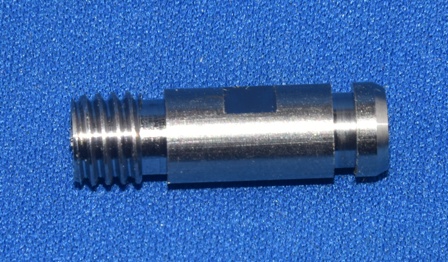 C2350182 CARTON SADDLE GUIDE $254.00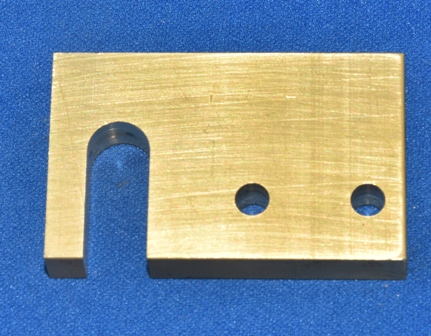 CARTON RETAINING BRACKET FOR RUBBER STOP ASSEBLY CNSISTS OF 4 PARTS AND ALLOWS QUICK CHANGE OF RUBBER PART WITH NO GLUE. $634.00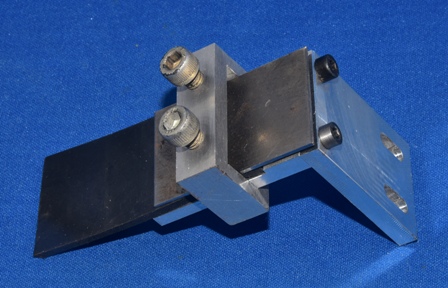 STRING INSERTER FOR C-23 (MC23660001). $56.50
H&H string insert needles are made of heat treated oil hardening tool steel and have been machined with a full radius on the front edge. The rear edge has been chamfered to allow the string to slip off with out binding. This part will improve insertion on the C-21 machines and will allow full speed running on the C-23 machines.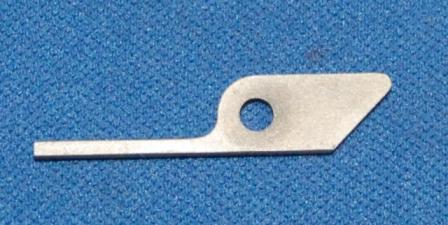 nsertion needle pin $42.00
Inserter with pin installed $92.50
This pin has a recess at the base to allow the inserter to sit flat asginst the head. It is hardened to the sasme stength as the inserter and will provide increased wear time.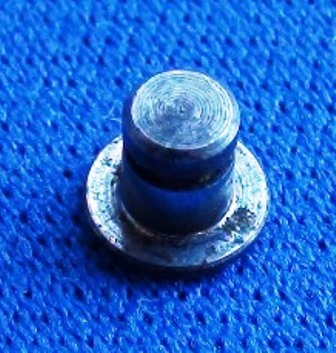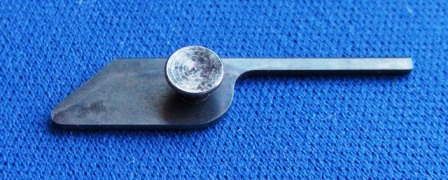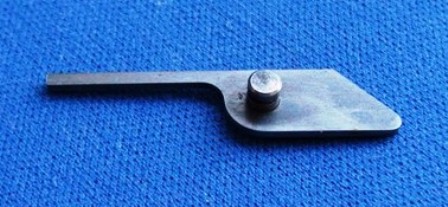 6:00 Position transfer grippers and guides. Made from exotic steel, Heat treated and then machined. Guides have a relief to allow dirt to exit and lubrication to remain to promote long life. Gripper blades have 30% more contact surface area in the guide then the OEM part.
C23110091/092 Short Lower Front Guide $428.00
C23110093/94 Short Lower Rear guide $476.00
C23110096/97 Upper top Long guide $608.00
C23110085 Gripper Blade (2 NEEDED) $265.00 EA.
Set of all eight parts $3500.00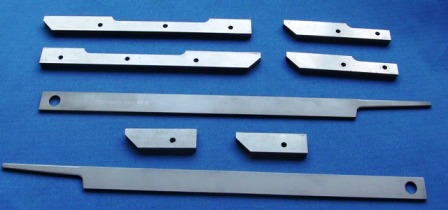 C230F0A605 6:00 TRANSFER GRIPPER MNACHINED FROM SOLID ALUMINUM COMPLETE WITH NEW LINERS INSTALLED._________________ $990.00
(SET OF THREE PARTS)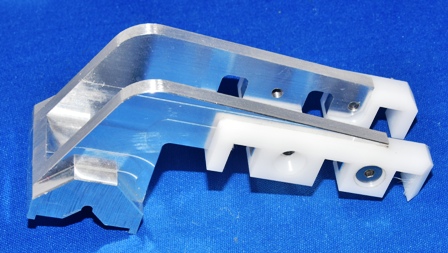 GRIPPER WITHOUT LINERS $790.00
C23F0A602/603 PLASTIC INSERT $154.00 EA.
Repair cost to fix bent gripper arm on customers parts $492.00 (includes new insert FOR LEFT SIDE).
FILTER PAPER DRIVE GEARS MACHINED FROM TOOL STEEL AND HARDENED FOR LONG LIFE (EXCEPT C230930093)
C21030096 NARROW CRIMP ROLLER $138.00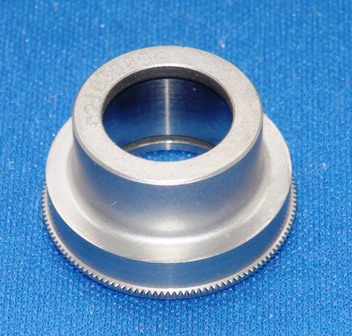 C21030021 WIDE CRIMP ROLLER $158.00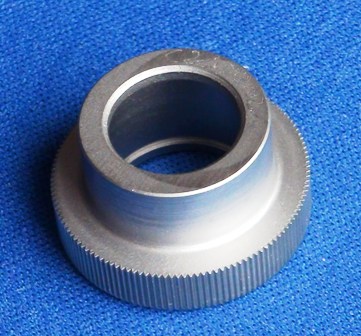 CRIMP ROLLER SET OF 6 PCS $890.00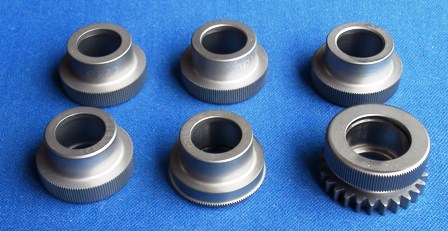 C23030093 LONG STRAIGHT TOOTH GEAR (WITH KEYWAY) $469.65
C23030092 LONG STRAIGHT TOOTH IDLER GEAR (NO KEYWAY) $403.00
C23030098 (HELICAL GEAR ON SHAFT) $996.45
C23030099 (SHORT STRAIGHT TOOTH GEAR) $934.67
C23030096 ( HELICAL DRIVE GEAR $790.23
SET OF ALL 4 GEARS $3594.00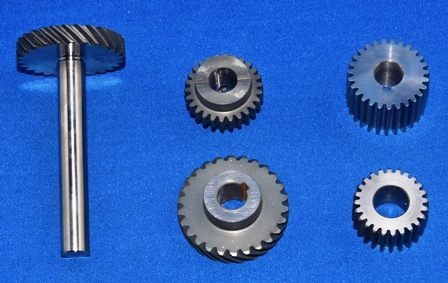 C20020008 tappet with screw pin. This tappet is a replacement for both C-21 and C-23. It takes a hardened pin that screws into the tappet and holds the roller in place. This prevents the pin from damaging the center wheel bushing and also prevents breakage of the center wheel cam arm. $98.00 per set (1 tappet and 1 screw).
Replacement screw pins $26.30 ea.
Set of 12 tappets with roller and pin installed $1200.00
C23F0C105-001 CENTER WHEEL GRIPPER $310.00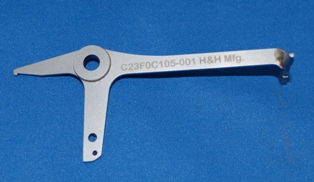 C20020014 CENTER WHEEL GRIPPER PIN $8.65
Note: double ended for use in C-21 and C-23 machines.

SET OF THREE FILTER PAPER FOLDERSC21030029/C21030086/C21030087 (RESURFACED FROM ORIGINAL IMA PARTS) $355.00 With exchange of old parts)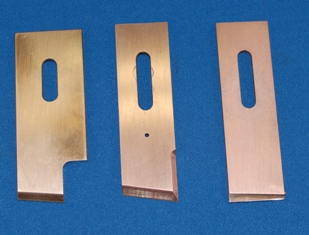 DOSER
C21F0007 OLD # 4460004 NEW # REAR DOSER SCRAPER
FOR HERBAL BLENDS 45MM OR 40MM $648.00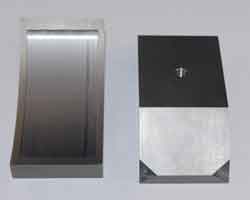 FOR BLACK TEA BLENDS 45MM OR 40MM $618.00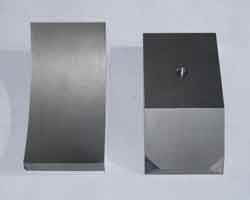 H AND H CAN REPAIR YOUR WORN DOSER WHEEL.
THIS DOSER WHEEL WITH DEEP GROOVES WORN IN IT CAME FROM A MACHINE RUNNING ABRASIVE HERBS.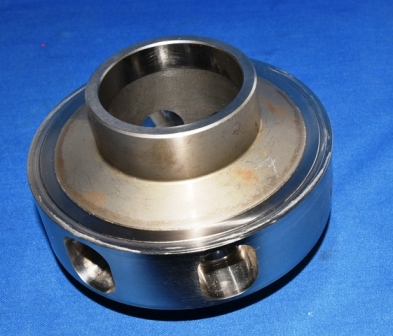 THIS IS THE SAME DOSER WHEEL AFTER TRUING UP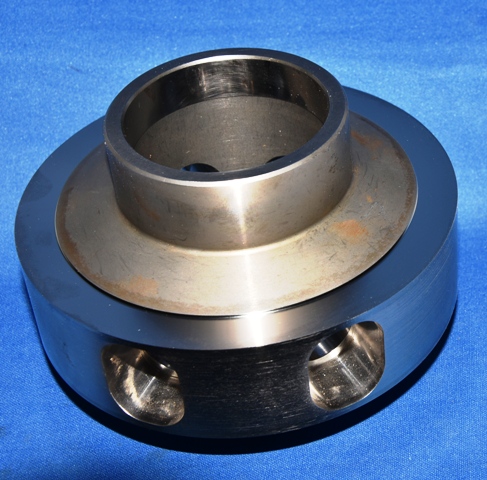 Note: Front and rear scrapers need to be sent with wheel to be ground to match amount of material that is removed from the wheel.
COST OF MACHINING WHEEL AND SCRAPERS $7500.00
21020099 Doser wheel side scraper.
H &H Can resurface your side scrapers and remove all the deep grooves that are caused by abrasive herbs. $75.00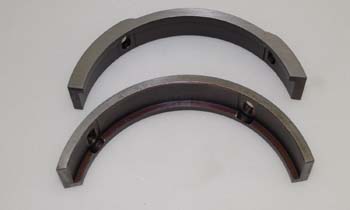 C21020100/C21020099 Doser scrapers. made from high carbon steel. The doser surface side has been machined thicker to allow longer life and numerous regrindings for facing $550.00 each. or $1025 for a pair.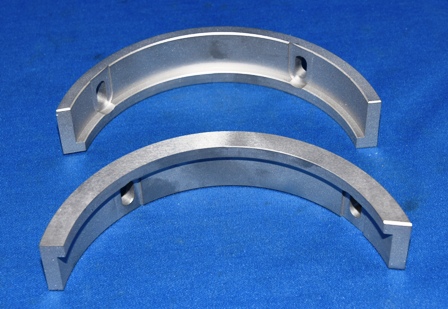 C21960003 DOSER PADDLE FOR HERBAL UNITS
Made of Stainless steel. $186.00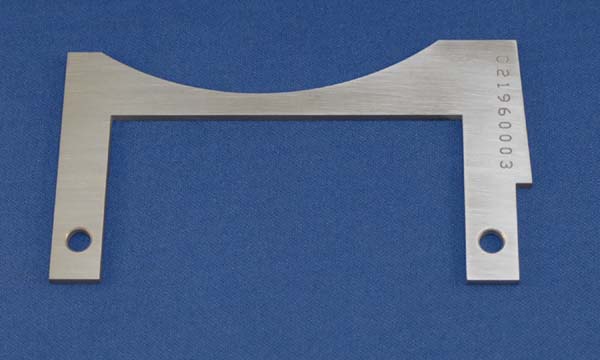 DOSER CUPS FOR WHEEL
Flat bottom cup for minimum tea dose (Use for Raspberry and low density herbs) $25.00 ea.
P1-P4 cups for bulky and high density herbs. $40.00 ea.
Note: square cups for older doser wheels are also available on a special order for the sqme price.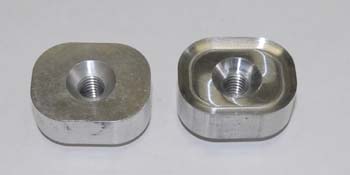 CENTER WHEEL & SEALER JAW AREA
C-23 Sealer Jaw Electrical Covers. Made from Glass Phenalic
Front Upper C23F0C110 M (adjustable for spacer thickness) $293.00
Front Lower C23F0C107 $184.00
Rear Upper C23F03110 $293.00
Rear Lower C23F0C116 $184.00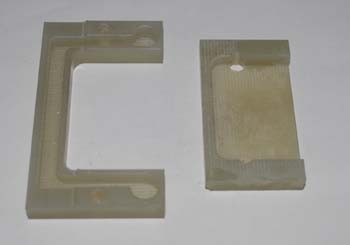 C23100007 C-23 center wheel grippers wear plates $67.00

C23FOC113 Knife for sealer jaw puncture on machines before
1998. NOTE PART# NEWER MACHINES TAKE A KINFE THAT IS THINNER AND MADE DIFFERENTLY. USING THIS PART ON A NEWER MACHINE WILL RUIN THE PART ON THE FIRST BAG.
COST $282.00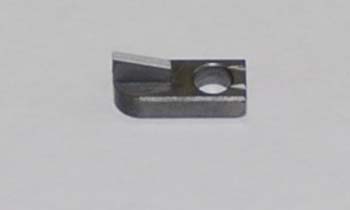 M09020138 C-23 CENTER WHEEL SPRING PACK OF 12 $90.00
C23F0D104 HOLDING CUP FOR 12:00 POSITION ___$857.00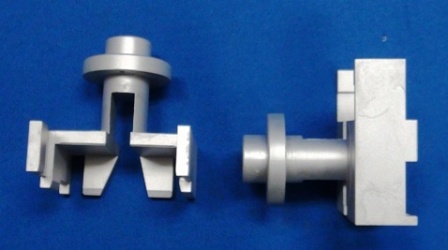 CENTER WHEEL PADDLES C233C0003 machined from solid tool steel and hardened for long life. Sold in sets of 12 $4104.00 per set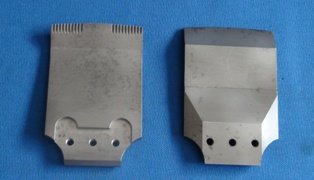 CENTR WHEEL SPOKE REPAIR
H & H MAY BE ABLE TO REPAIR YOUR BROKEN Center Wheel for the fraction of the cost of a new part. The broken spoke is machined to accept a mounting bracket that is then mounted to accept the holding pad. The wheel is then checked on our Coordinate Measuring Machine to ensure that all the holding pads on the wheel are within .2mm of each other and the mounting surface.
Cost per spoke is $1400.00
The center wheel and all the paddles are needed and must be sent to us for inspection and evaluation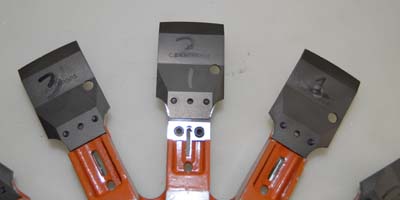 .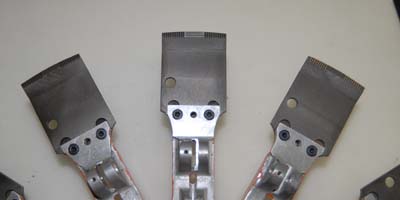 OUTTER ENVELOPE AREA
ADVANCE ROLLERS AND BRAKES
H & H can rebuild your worn out rollers and traction brakes for a fraction of the IMA price of a new part. The replacement material is a newly design urethane that will have greater traction and longer life. Send us your old worn out rollers. We will remove the old material, re-coat the hub and machine the necessary grooves and diameters to make the part better than new.
448031-01/02/03R OUTER ENVELOPE ADVANCE ROLLER $292.00 with exchange of core.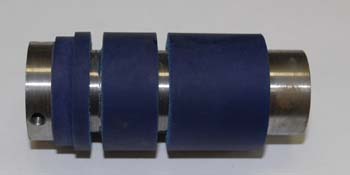 C23060198R TAG PAPER ADVANCE ROLLER $130.00
C23080266R OUTER ENVELOPE ONE WAY BRAKE ( $253.00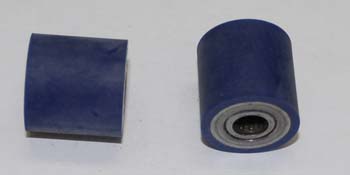 C23080134 BRAKE PLATE $116.00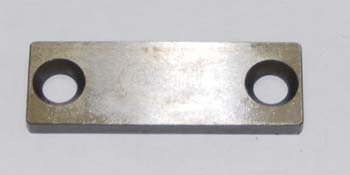 C-23 EXTRACTOR GROUP PARTS MADE FROM HARDENED EXOTIC STEEL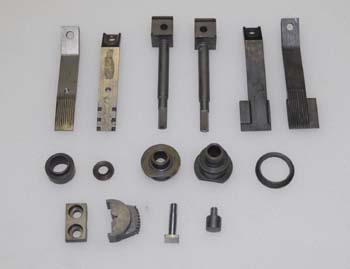 ANELAL15UNI6799
RETAINING CLIP FOR UPPER BEARING HOLDER
.50
ANELF17UNI7437
RETAINING CLIP FOR ARM BEARING
.50
C23080037 GRIPPER OPENING SHAFT
$92.00
C23080039 ARM OPENER SHAFT TIP
$177.00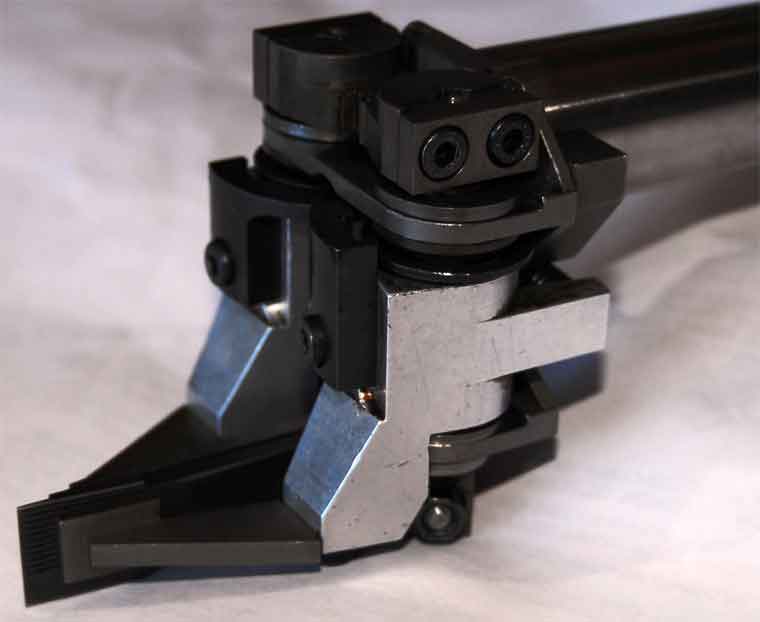 C23080038 GRIPPER SEGMENT SHAFT
$519.80
C23080042 UPPER TOP BEARING CUP SPACER
$40.25
C23080043 OUTSIDE FRONT GRIPPER
$420.90
C23080044 GRIPPER SEGMENT
$641.70
C23080045 C23080045 REAR GRIPPER SHAFT
799.25
C23080046 FRONT GRIPPER SHAFT
799.25
C23080047 ALUMINIUM ARM BEARING SPACER
$62.10
C23080049 INSIDE FRONT GRIPPER
$570.40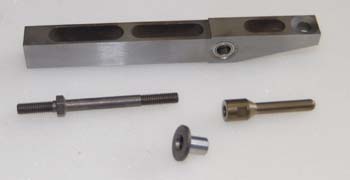 C23080401 REAR GRIPPER MOUNTING ARM
$670.00 (NOTE: INCLUDES BEARINGS)
C23080051 REAR SHAFT TIP $195

C23080206 OPENING SHAFT ADJUSTER
$82.00
3080207 SWIVEL BUSHING
$192.00

C23080212 GRIPPER RETAINING STUD
$75.00

C23080216 LOWER TOP BEARING SPACER
$26.85

C23080217 GRIPPER SEGMENT CLAMP
$178.25

C23080268 UPPER BEARING CUP
$270.25

C23080269 LOWER BEARING CUP
$270.25

C23080273 REAR ARM OPERNER
$419.75

C23080291 FRONT ARM OPENER
$419.75

C23080335 SPRING HARNESS FOR ALUMINIUM ARMS
$230.00

C23080397 INSIDE REAR GRIPPER
$614.100

C232C0058 OUTSIDE REAR GRIPPER
$485.30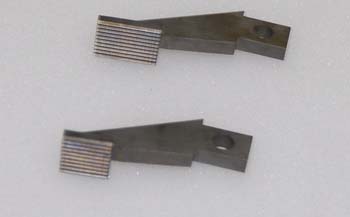 C23080601 Rear over wrap advance gripper mounting arm. $550.00
TOP OF BAG FOLDING
C23060139 CAM PLATE FOR TOP OF BAG FOLDING FINGERS (C-23). $310.00.
This plate is made from 8620 tool steel and hardened to 62 R. It includes two replacement cam rollers that are precision ground to fit the plate.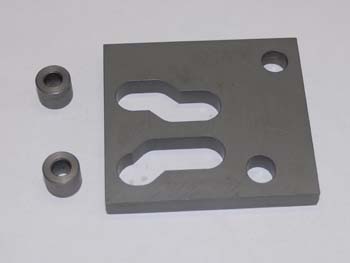 Bushings for cam plate $58.00
C23050048 SADDLE SHAFT (FOR NEW STYLE SADDLES USING THE CAM STYLE ACTIVATION AND SPRING RETURN) $135.00
DSB50079 DRY BUSHINGS FOR SADDLE CASTING $150.00 PER SET
C23050043/C21050103 Saddle Gripper Cam $230.00
SADDLE CAM PIN and ROLLER
On early models with a saddle body this replaces the 2 bearings that transfer motion to the gripper opening cam. Both parts are made of A-11 Graphitic Air Tool Steel. The pin has a oil hole and land to allow lubrication between the roller and pin.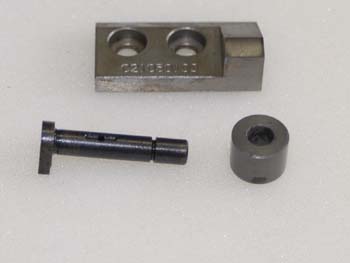 Pin $164.00
Roller $54.00
This post is made with a larger hex as a base. This prevents the post from rocking and wearing out the mounting hole.
C23050069 SADDLE UPPER GUIDE POST (takes M03010010 bearing) $127.00

STAPLERS
C20070021 WIRE ADVANCE ARM (PAWL) $78.00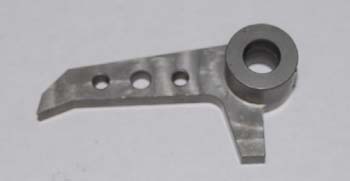 C20070066 UPPER STAPLE WIRE GUIDE $75.00
Note: Guide is hardened and precision ground.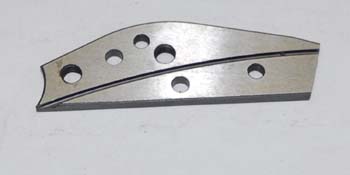 C20170009 WIRE FEED ROLLER CASTING
This replacement part is machined out of a solid block of T-6 6061 aluminum. It is much stronger than the OEM cast part and will allow more stability for the feed roller when installed. $665.00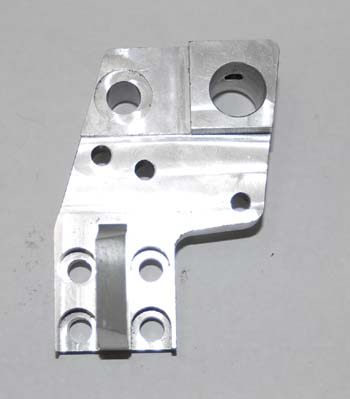 MISCELANIOUS
EMPTY TEA BAG SENSOR UNIT FOR C-23
Includes all parts shown below. All items are made from hardened steel and are exact OEM replacements $1365.00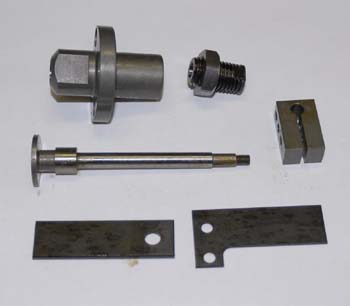 C21420020 SENSOR MOUNTING BRACKET $78.00
SEALER JAW ARMS
These arms are used on the rear jaw of the heat seal machines to keep the bag in position while the bag is sealed. If you are having problems with the bottom of the bag tearing or puncturing from the OEM part, these arms will cure that situation. $278.00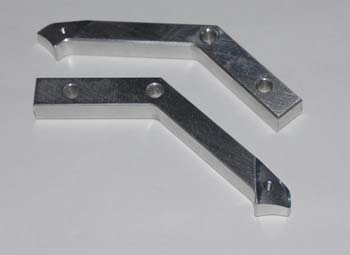 C1001002 Tag Roll Brake Arm H & H can repair your old arm. The solid activation tang that wears down, is milled off and a new bracket that holds a ball bearing is installed. The bearing now rides on the cam preventing the cam from wearing out and provides improved control for the brake and tag paper roll. $475.00 with Exchange of old arm.
Includes bearing mounting arm, screw and spacer.
C23060300 Mounting arm only $146.00
Bearing M03010132
C20060214 Tag roll brake cam $130.00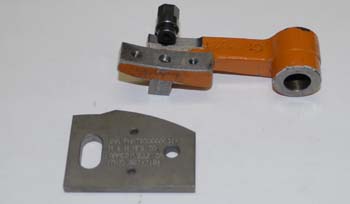 C238A0013 Staple missing sensor block Made from white Acetal plastic which is more abrasion resitant then the OEM green plastic part. $768.00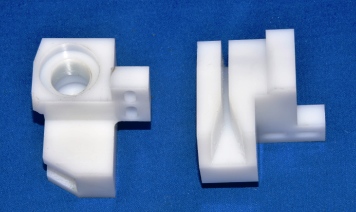 C23060286 Tag wheel gripper pin. Made from A-10 shock resistant steel and hardened to 64 Rockwell for long life. $192.00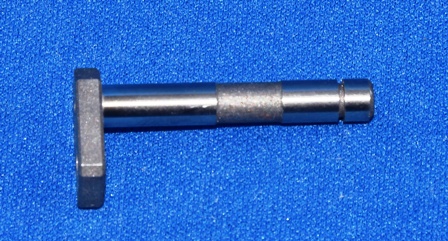 KNIVES
IMA C-23 FOR SALE
C23060099 MOVING STRING KNIFE $376.00
C23060101 STATIONARY STRING KNIFE $168.00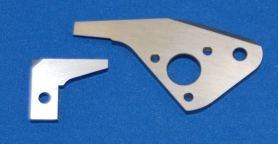 MC23610005 OVER WRAP (2 hole mount) $343.00
MC23610006 OVER WRAP (3 hole mount) #343.00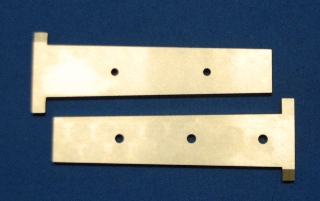 H&H HAS ALL THE NECESSARY FIXTURES TO SHARPEN YOUR DULL KNIVES. THE COST FOR THIS SERVICE IS A FRACTION OF THE NEW REPLACEMENT PRICE.
KNIFE RESHARPENING CHARGES
C23060099 MOBILE STRING $55.00
C23060101 FIXED STRING $55.00
MC23610001 MOBILE FILTER PAPER (both sides $65.00
MC23610002 FIXED FILTER PAPER (both sides) $65.00
MC23610003 FIXED TAG PAPER (both sides) $65.00
MC23610004 MOBILE TAG PAPER (both sides) $65.00
MC23610005 OVER WRAP (2 hole mount) (both sides) $75.00
MC23610006 OVER WRAP (3 hole mount) (both sides) $75.00

---