Currently in stock is a 1992 C-21 150 bags per minute for the manufacture of heat seal with string, tag, herbal dosing system and auto cartoning set up for a 16 count carton. Bag size is 45 mm, Over wrap is 66 x 155. machine was refurbished using H & H re-engineered replacement parts. This included all new bearings, chains seals, knives, hoses and all standard wear parts replaced. A full set of safety covers with electronic interlock is included. Call (707) 887-7181 for pricing and inspection information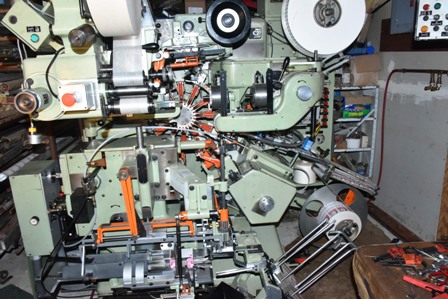 ---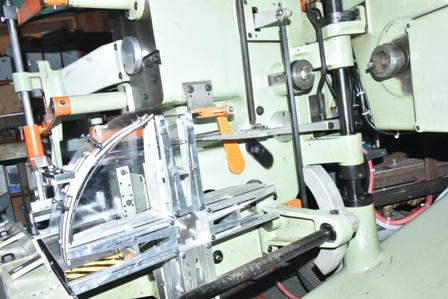 Sample bags made after reconditioning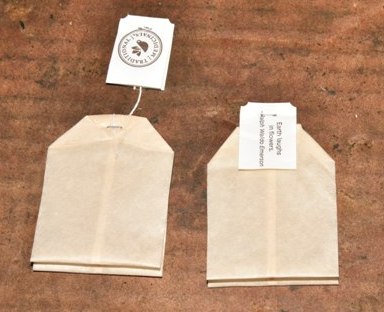 Cartoning Device
Carton Former
H & H Now makes custom carton formers for carton sizes 16 to 25 count for the 60mm wide bags. These formers are direct replacements for the OEM and are sized 3mm smaller than the customers carton to ensure proper alignment and fitting. Material is steel that is silver soldered and then glass blasted to provide a strong and clean joint with no ruff surfaces. Delivery can be made in as short as two weeks time from receipt of sample cartons.

Five (5) cartons are required as a sample. Turn around time is 2 weeks. $2900.00 for 1 part $2500.00 for each additional part ordered at the same time.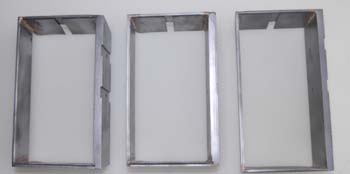 C20F00721 STACKER FORK $182.00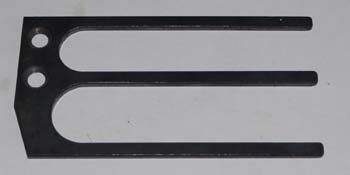 C21F00707-C20190217-C20500762 STACKER BASKET SEGMENT ASSEMBLY.
H & H makes a fully adjustable modular stacker segment basket that comes as an assembly made from 7 separate parts. These parts consist of a base plate, back plate, platform and 4 arms. All the parts are made out of 6061-T6 billet aluminum. This assembly allows bent arms to be removed and replaced in less than a minute while the base is still attached to the machine. Will fit C-23 or C-21
1 Unit complete and assembled. FOR 60MM BAG SIZE $800..00
Individual replacement parts
Base mount C23FOA719 $175.00
Basket back plate C23FOA723 $137.00
Wide arm C23FOA722 $86.00
Narrow arm C23FOA721 $82.00
Support Plate C23FOA720 $198.00
1 Set of parts to make 4 complete baskets. $2500.00
Note: Does not include capscrew hardware.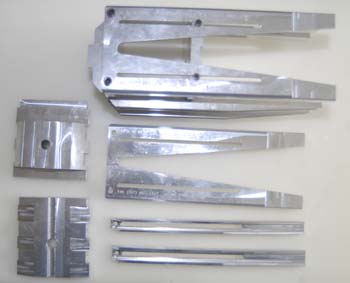 C20F00655 PUSHER BAR COMBS WITH ADJUSTABLE TOOTH
H & H CAN MAKE ANY SIZE PUSHER BAR COMBS FOR YOUR MACHINE. Parts are made out of a flexible acrylic material and will be fabricated by a computer controlled milling machine to match your original IMA parts. The end tooth on the left side can be made adjustable to match up with the bottom support plate in the stacker basket. We currently stock adjustable pushers for 16, 20 and 25 count machines.
Minimum order of 50 parts $25.00 per part
Sample must be sent at time of order. All parts will be made to match sample within +/- 0.2mm
Tooth with slots for adjustable length (made of steel) $45.00
Current in stock parts are available in the following sizes
A. 102mm to 124mm
B. 126mm to 150mm
C. 160mm to 185mm
$25.00 per part (Note: Does NOT include metal adjaustable tooth)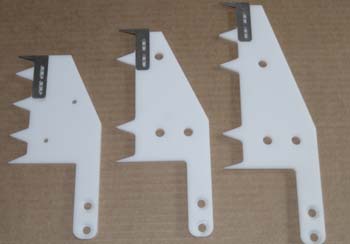 C210F0B803 CARTON EXTRACTION ARM SUPPORT PLATE
Heavy duty plate with extended sides for greater strength. $95.00

C20640016 Lot number release arm $295.00
C25240022 Lot number trigger (release) pin $155.00
LOT NUMBER TYPE CARRIERS FOR C-21
Our carriers are made from a tool steel blank that is ground and hardened after machining. The design of the holder includes a groove for a .060 pin along the front locating surface. This pin will help locate notched type to keep every number and letter in the proper direction and all at the same level for consistent and even marking. It also acts as a safety retainer to prevent the type from falling out if the end plate retaining screws become loose or fall out during production.
C-21 Carrier C20640022 (includes end plates and pin) $390.00

Spare end plates $50.00
Notched type Letters and numbers $7.50 per piece (minimum order 25 pieces)
Note: Standard IMA type will fit in these holders with the pin removed.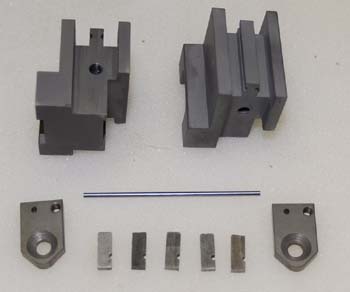 C25F00990 Lot Number STRIKE PADS $32.45 each
8MM UNIBALL BOLT C21050013 $65.00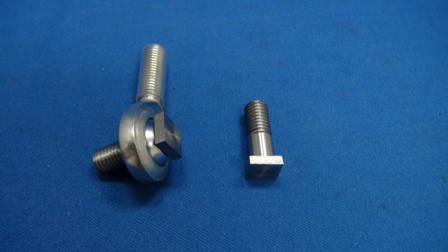 6MM UNIBALL BOLT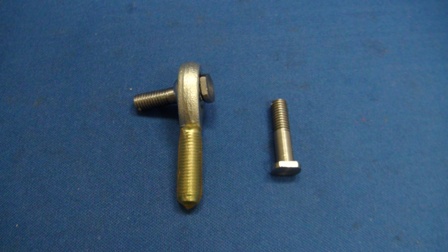 BRASS SLIDING SHOES
For cartoner
C10090044 (.472 thick) $51.00
C25240005 (.236 thick) $55.00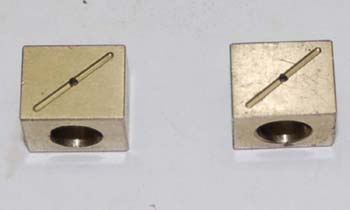 CAM ACTIVATOR SHAFT
C21580007 for use with C23360062 driver $172.00
C21FOB802 Suction Cup Mounting plug $40.00 (Set of 10 $350.00)

HEAVY DUTY CARTON SUPPORT PLATE $125.00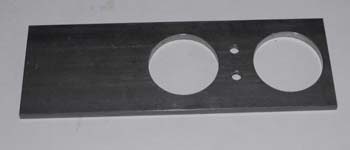 CARTON SADDLE GUIDE $89.00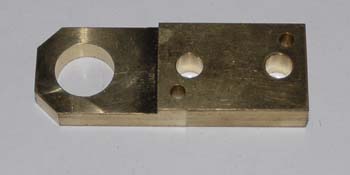 DOSER
DOSER CUPS FOR WHEEL
Flat bottom cup for minimum tea dose (Use for Raspberry and low density herbs) $25.00 ea.
P1-P4 cups for bulky and high density herbs. $40.00 ea.

CENTER WHEEL AND SEALER GROUP
HEAVY DUTY REINFORCED HEATER ELEMENTS
Made in Germany and includes a separate brace to keep the wires from Shorting out during machine movment. $132.00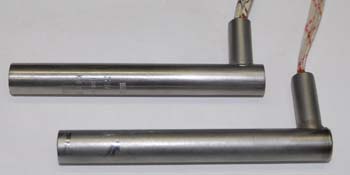 C20020014 CENTER WHEEL GRIPPER PIN $9.65
Note: double ended for use in C-21 and C-23 machines.

C21110002 CENTER WHEEL END CAPS FOR C-21
H & H Center wheel end caps are machined with retaining teeth (similar to the C-23 heat seal option) to prevent the bag from rotating in the gripper during machine movement. They are constructed out of 1018 steel after which the surface is case hardened for a guaranteed long life. The ends of the teeth have a radius so that they will not mark or tear the filter paper or over wrap during insertion or extraction.
Sold as a set of 12 parts. $1725.00



C20620052 MOUNTING ARM FOR BAG GUIDE ( USED ON REAR SEALER JAW) Made from 6061 Billet aluminum. $257.00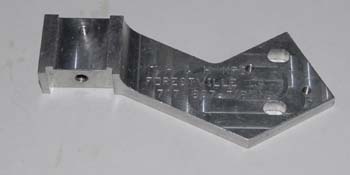 C230620032 POWER ARM GUIDE BUSHING (BRASS) $98.00
C20620034 BRASS MOUNTING NUT $146.00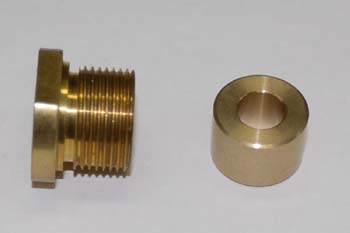 Brass Sliding Shoe For Center Wheel Cam Lever
C10060005 (.392 thick) $148.00

Note: This part is machined .025mm (.001) larger than a stock IMA part. This is to make up for the small amount of wear that is present in a lever that has been run for any length of time. If a new arm is installed, the block will need polishing on a flat surface with a sheet of 600 grit paper to remove a small amount of material till the block slides smoothly into the lever.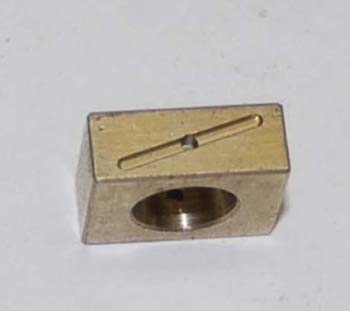 Sealer Jaw alignment blocks
Machined from 01 tool steel and heat treated and drawn to 64 Rockwell.
C21F00218 Front block (2 each needed) $155.00
C21F00219 Rear block (1 each needed) $278.00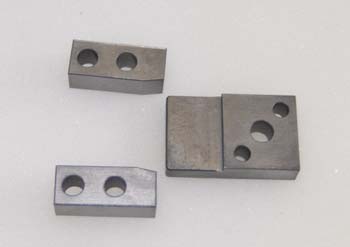 SEALER JAW KNIFE PARTS
C21F00209 Female Knife $82.88
C21F00210 Male Knife $195.33
C21F00211 Male Knife retaining tab $47.54
All three items can be purchased as a set for $278.21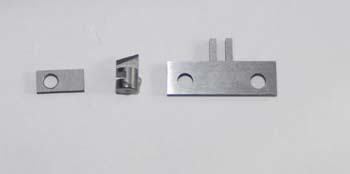 Electrical Mounting block for sealer heater elements $125.00
C21160011 made from Glass phenalic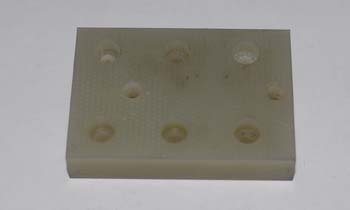 H&H DESIGNED Easy mount terminal block and wire holders. Makes replacing heater elments or temperature probe a easy quick repair. No more fussing with terminal crimp ons, nuts or washers. Kit includes a mounting block, 4 terminal clamp blocks and a replacement wire clamp block
Does not include hardware (screws and bolts) _________$550. per side
Note: different set needed for rear or front jaw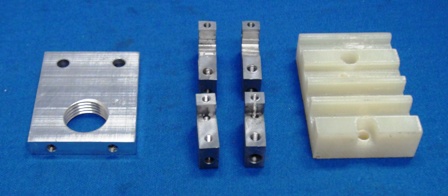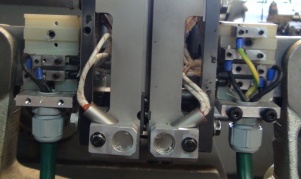 Heater element clamp block. Set of three left or right $172.00
Single blocks $65.00 each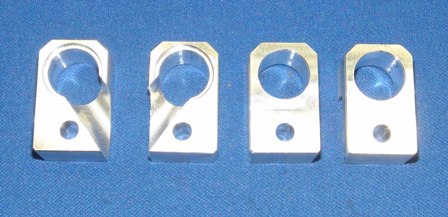 C21F0020 MOD Center Wheel Gripper Cam $450.00
Modified to open gripper further out in 3:00 Position for tag insertion and also for better grip of bag in 6:00 position.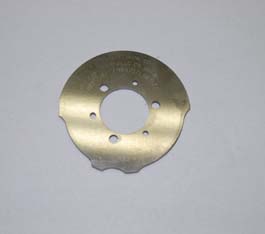 C20020012 Tappet Alignment Pin.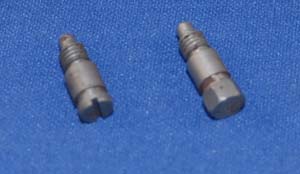 These pins come in two different styles. The top is slotted in the standard IMA style or with a 6mm hex head for better insertion
Slotted Head $18.86
Hex Head $22.25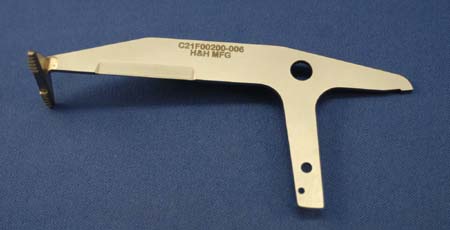 C21F00200-006 CENTER WHEEL GRIPPER with notched head $178.00

C20020008 tappet with screw pin. This tappet is a replacement for both C-21 and C-23. It takes a hardened pin that screws into the tappet and holds the roller in place. This prevents the pin from damaging the center wheel bushing and also prevents breakage of the center wheel cam arm. $98.00 per set (1 tappet and 1 screw).
Replacement screw pins $26.30 ea.
Set of 12 tappets with roller and pin installed $1200.00
C20020007 CENTER WHEEL FOR CRIMP OUTER ENVELOPE
C21110001 CENTER WHEEL FOR HEAT SEALED OUTER ENVELOPE
These are like new condition, fully rebuilt wheels with all new H & H improved designed parts. The bushings and seals have been replaced along with new style tappets that use a threaded pin to hold the cam roller in place. This means that the bushing will not get a groove worn in from the roller pin like the original OEM parts. The adjuster bolts are hardened and the grippers are are made from high strength spring steel for long life and durability. Also there is an extra hole machined into the tang of the gripper. This is for a wear plate that is installed so that the tang of the gripper will not wear out rapidly from movement on the tappet adjuster bolt. This translates into longer use of the gripper and fewer times that the gripper needs adjustment to reset the gap.
The Heat Sealed wheel also has new end caps that are hardened and include grooves to help keep the bags from twisting during rotation. Both wheels come with a new set of gripper springs.
Crimp seal wheel C20020007 __________$8500.00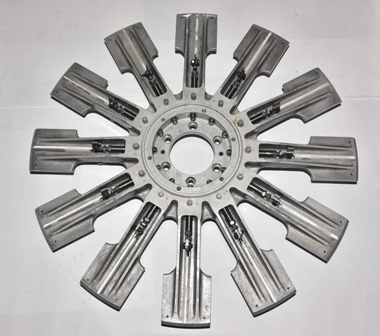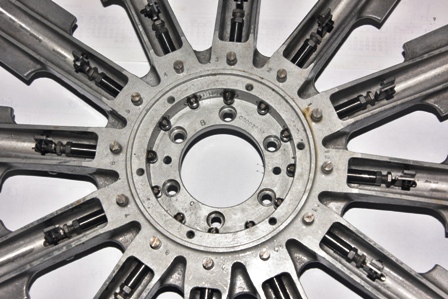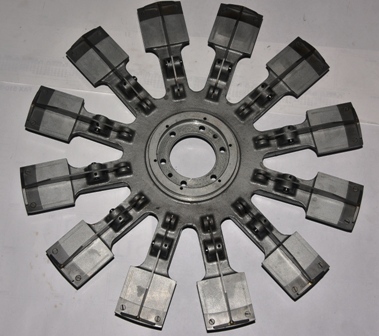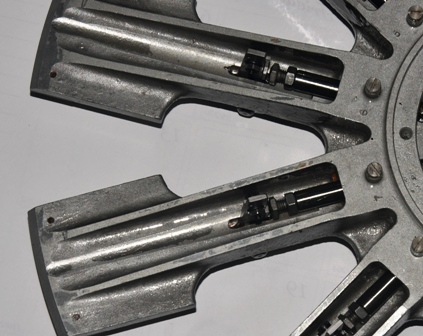 Heat Seal Wheel C21110001 ____________$9800.00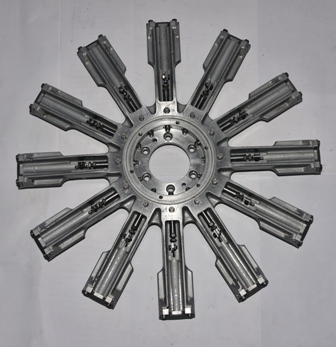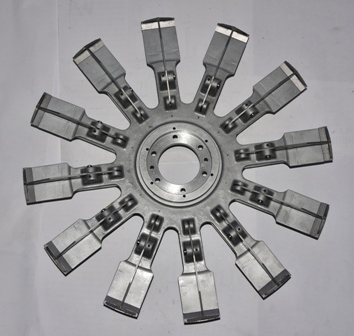 C20620068 POWER ARM BUSHING Made from hardened steel with extra oil holes to spred lubricant around the inside. $455.00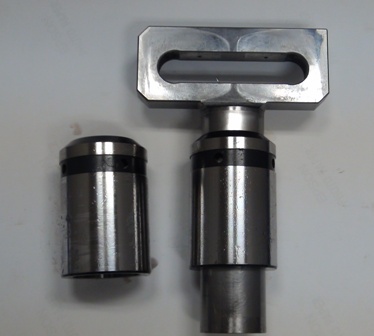 C20020013 Tappet Adjustment Screw $8.62
C20020011 Piston roller for use with modified cam $16.00
C20020008 Piston bushing $24.50
M09020004 C-21 CENTER WHEEL SPRING PACK OF 12 $90.00
M09020004 INDIVIDUAL SPRINGS
Center Wheel Gripper Spring $8.50
OUTTER ENVELOPE GROUP
C20850044 AIR EXCHANGER SPRING POST.
Made from O1 tool steel and hardened to prevent the spring from wearing
grooves in the surface. 6MM flats for tightening wrench. $67.00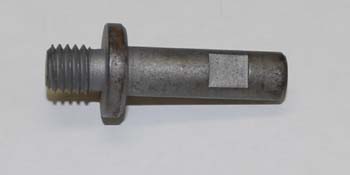 C20850041 ASPIRATOR TUBE for air exchanger mechanical system on older machines. $752.00

C21F00206 SECOND STAGE INSERTION FORKS. This part comes in a base made from solid brass or aluminium. The internal holes are drilled at an angle that leaves .050 wall thickness to promote long life and prevents vacuum leaks. The fork tubes are made from steel and have a thicker wall than the IMA parts. $1650.00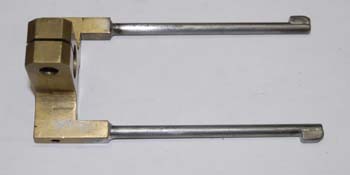 ADVANCE ROLLER NEW AND REBUILT
H & H can rebuild your worn out rollers and traction brakes for a fraction of the OEM price of a new part. The replacement material is a newly design urethane that will have greater traction and longer life. Send us your old worn out rollers. We will remove the old material, re-coat the hub and machine the necessary grooves and diameters to make the part better than new. We also sell new parts with out an exchange.
C20060271 Tag Advance Roller New $198.00
Rebuilt with exchange $106.00
C20080130 Over Wrap Advance Roller New $190.50
Rebuilt with exchange $98.50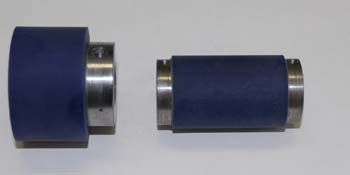 C20080068/C20080214 C-21 extraction grippers $657.00 set
Made from hardened steel and ground to fit. Exact duplicate of OEM part only heat treated and case hardened to 64 Rc.
C20080068B/C20080214B Extraction grippers with bearing inserted.
These grippers are the same as above mentioned parts with one exception. They have a set of bearings mounted inside each gripper for the pin. This ensures the hole for the gripper will never wear out and also allows the grippers to run with less friction for a smoother operation. $755.00 set.
C20080066 Extraction gripper control shaft. Should be replaced with new grippers as a set. $487.00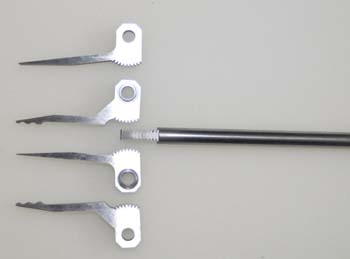 C20850033 Over wrap shaft bushing with internasl oil groove. Made from hardened tool steel. Honed and ground for tight tollerance and good fit.
$326.00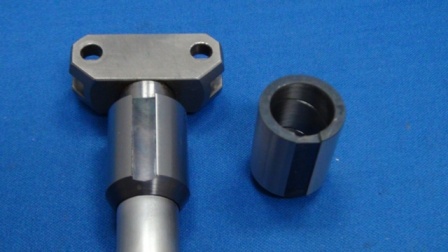 Repair of broken clamp on envelope arm. Send us your old part and H & H can can make a permanent fix for a standard problem with this part. $398.00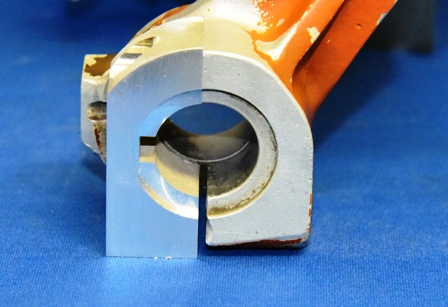 Modification to stop vcacume leak around support bearing Saves the cost of rreplacing a $1300.00 arm and will never wear out from removal and cleaning. $750.00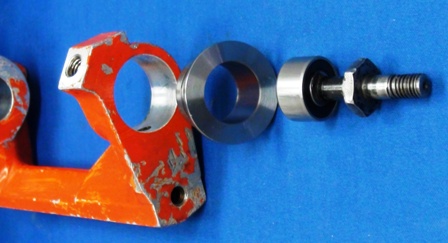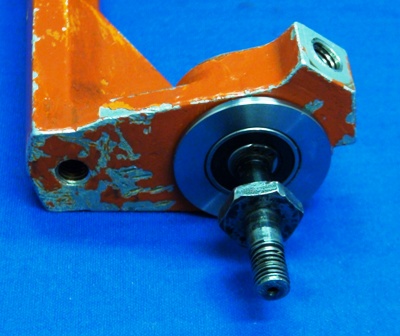 C20610004 Over wrap advance roller drive gear $162.00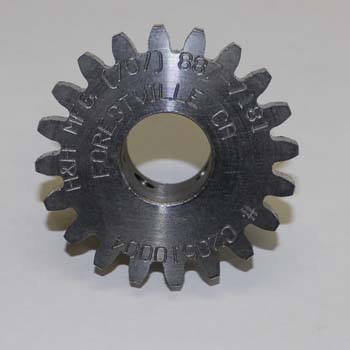 C20190144 STACKER FORK SPRING MOUNT $165.00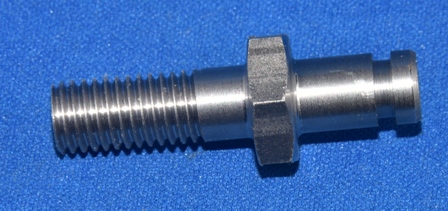 C20190191 10MM SPRING MOUNT (FOR BAG HOLD DOWN FORK) $87.00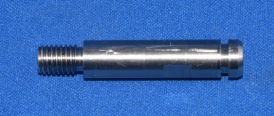 8MM SPRING MOUNT (OVERWRAP ROLLER HOLD DOWN ARM RELEASE KNOB) $72.00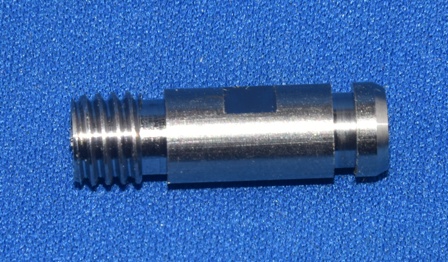 C2350182 CARTON SADDLE GUIDE $254.00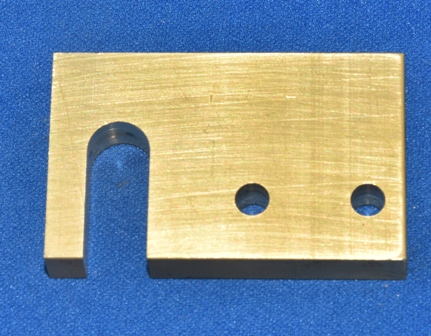 CARTON RETAINING BRACKET FOR RUBBER STOP ASSEBLY CNSISTS OF 4 PARTS AND ALLOWS QUICK CHANGE OF RUBBER PART WITH NO GLUE. $634.00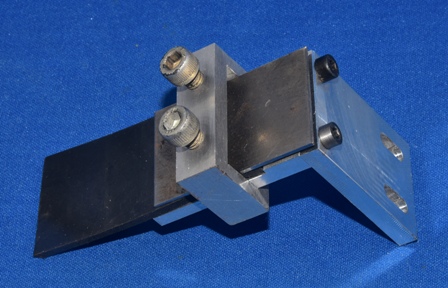 OVERWRAP SHAFT SUPPORT. H & H can rebuild your old support block for much less then the cost of a new part. Rebuild price includes a new drive roller shaft C20610003 $918.0
New advance roillers and a drive gear can also be included for an additional cost.
Drive roller assembly complete with exchange of body and old rollers$1461.90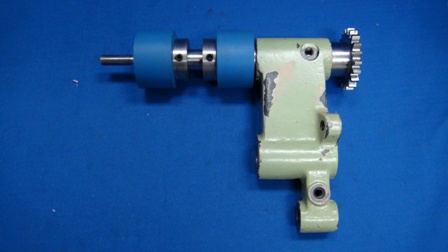 DOSER AREA
C21F0007 OLD # 4460004 NEW # REAR DOSER SCRAPER
FOR HERBAL BLENDS 45MM OR 40MM $648.00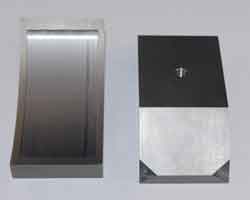 FOR BLACK TEA BLENDS 45MM OR 40MM $618.00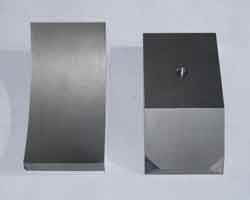 H AND H CAN REPAIR YOUR WORN DOSER WHEEL.
THIS DOSER WHEEL WITH DEEP GROOVES WORN IN IT CAME FROM A MACHINE RUNNING ABRASIVE HERBS.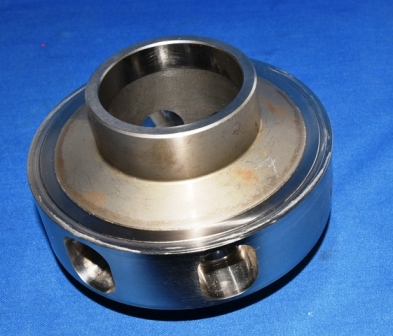 THIS IS THE SAME DOSER WHEEL AFTER TRUING UP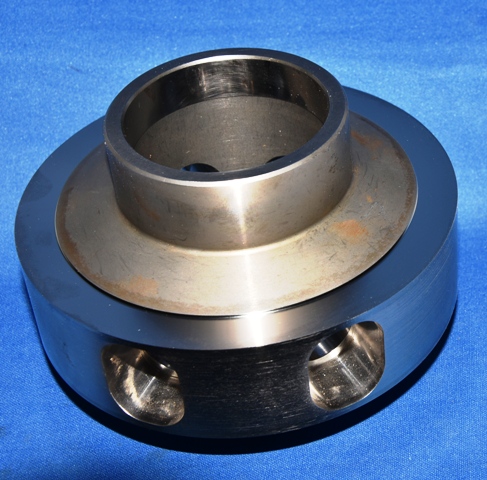 Note: Front and rear scrapers need to be sent with wheel to be ground to match amount of material that is removed from the wheel.
COST OF MACHINING WHEEL AND SCRAPERS $7500.00
21020099 Doser wheel side scraper.
H &H Can resurface your side scrapers and remove all the deep grooves that are caused by abrasive herbs. $75.00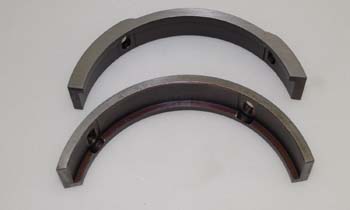 C21020100/C21020099 Doser scrapers. made from high carbon steel. The doser surface side has been machined thicker to allow longer life and numerous regrindings for facing $550.00 each. or $1025 for a pair.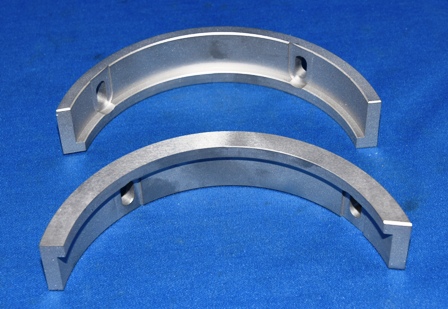 C21960003 DOSER PADDLE FOR HERBAL UNITS
Made of Stainless steel. $186.00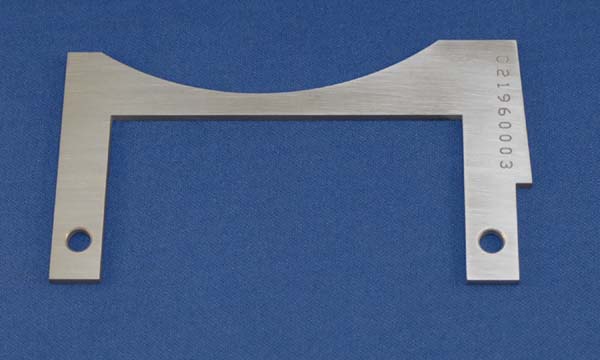 DOSER CUPS FOR WHEEL
Flat bottom cup for minimum tea dose (Use for Raspberry and low density herbs) $25.00 ea.
P1-P4 cups for bulky and high density herbs. $40.00 ea.
Note: square cups for older doser wheels are also available on a special order for the sqme price.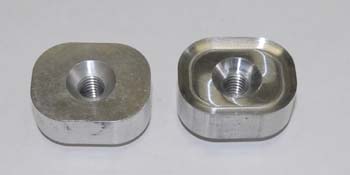 C21030033 Folding casting alignment fork made from 01 tool steel and hardened to 62 RC $186.00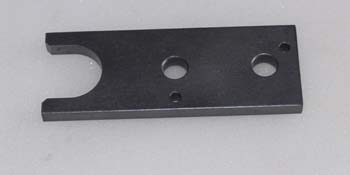 C21F00022 FRONT FOLDING FINGER $132.00
C21F00023 REAR FOLDING FINGER $132.00
These parts are a matched pair and should be replaced in sets of front and back.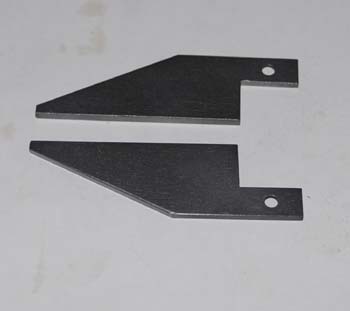 C21F00032 STEEL GUIDE FOR 12:00 POSITION $132.00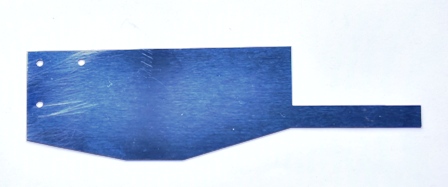 C21040131 FILTER PAPER KNIFE DRIVE GEAR $290.00
C21040132 " " $290.00
C21F00012 " " $264.00
C21040055 Nylon drive gear $37.00
FILTER PAPER FOLDING AND DRIVE GROUP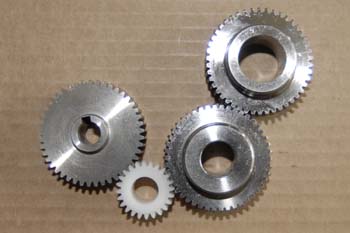 C21030018 FILTER PAPER CRIMP ROLLER WITH GEAR $239.00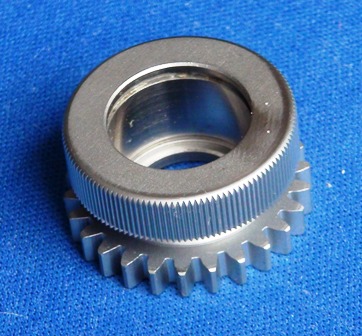 C21030096 NARROW CRIMP ROLLER $138.00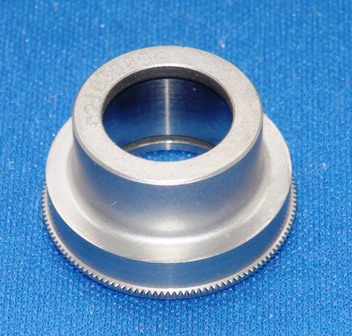 C21030021 WIDE CRIMP ROLLER $158.00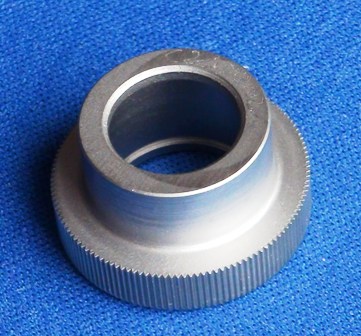 CRIMP ROLLER SET OF 6 PCS $890.00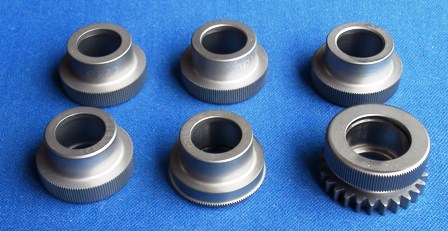 FILTER PAPER ADVANCE GEARS
C21030011 $176.00
C21030103 $452.00
C21030104 $192.00
C21030012 Gear advance fork $154.00
C21030104 ST $856.00 PER SET for all three gears and the fork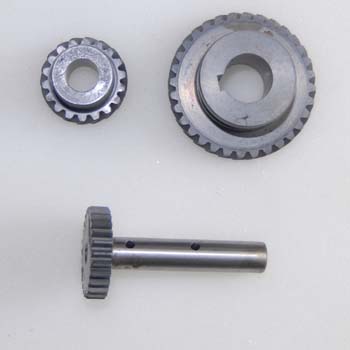 All three gears and the advance fork should be replaced as a set. These parts are all hardened to 64 rc. To pin the small gear to the drive shaft requires drilling and reaming with carbide tools for a .125 roll spring pin.
C21040079 GUSSET FOLDER ALIGNMENT CAM $297.00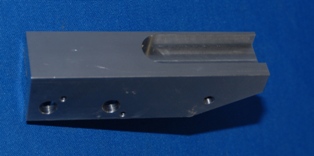 C20190141 STACKER BAG SUPPORT ARM CAM $292.00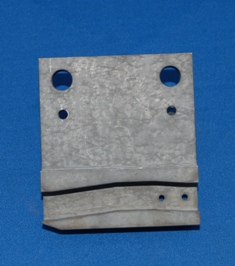 C21030068 FILTER PAPER PRESSURE ROLLER BUSHING
MADE FROM 954 BRASS TO REPLACE PLASTIC OEM PARTS $117.00
C20060100 CAM PLATE FOR TOP OF BAG FOLDING FINGERS (C-21). $292.00.
This plate is made from 8620 tool steel and hardened to 62 R.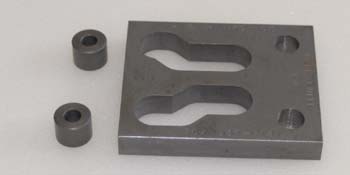 Bushings for cam plate $58.00
C20060317 FOLDING GUIDE BACK STOP $32.75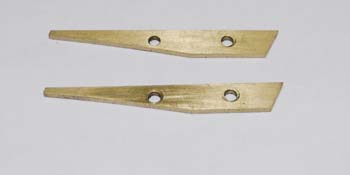 C21050079 SADDLE SHAFT (FOR OLDER STYLE SADDLE USING THE BLOCK AND PIN ACTIVATION) $255.00
C23050048 SADDLE SHAFT (FOR NEW STYLE SADDLES USING THE CAM STYLE ACTIVATION AND SPRING RETURN) $135.00
DSB50079 DRY BUSHINGS FOR SADDLE CASTING $150.00 PER SET
C21050095 SADDLE ACTIVATION BLOCK $45.00
INCLUDES 2 PINS
SADDLE BODY Replaces the original saddle casting with a solid billit aluminum housing. Guide bearing shaft and gripper segment shaft have been designed to not wearout or break off from housing as the original OEM parts are subject to. Also includes a wear shim on the gripper control shaft to keep the body from getting destroyed.Comes complete with all required hardened bushings installed. Does not include shaft seals or brass seal retaining covers as shown in photo. $4250.00.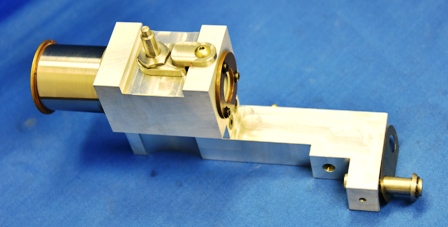 Saddle gripper control collar bushing $235.00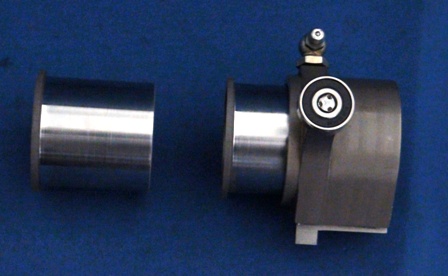 Saddle gripper control shft bushings $167.00 a set (2 parts)

Saddle shaft with new body bushings and spacer $578.00 (4 parts included)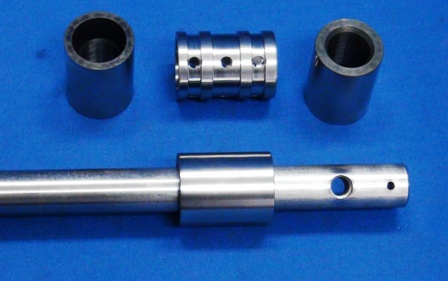 C23050051/C23050052 SADDLE GRIPPER GEAR SEGMENTS $1280.00 PER SET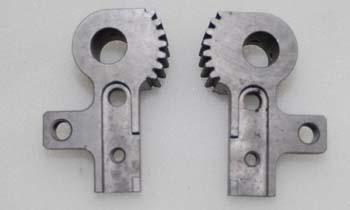 Note: Segments made by H & H are hardened to 64 Rockwell and require drilling and reaming with carbide tools in order to insert the retaining pin. A .125 pin is included with each set.
C23050046 SADDLE TOP GUIDE BAR made from tool steel, heat treated and case hardened for long life $495.00

C23050067 SADDLE GRIPPER CONTROL BAR made from tool steel, heat treated and case hardened for long life $587.00

25040100 HAND WHEEL DRIVE GEAR $265.00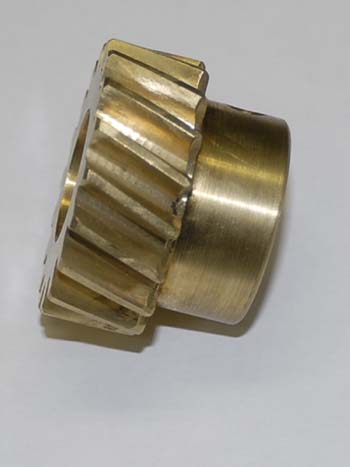 C23050043/C21050103 Saddle Gripper Cam $230.00
C23050048 Saddle Shaft for Newer Style Saddles $320.00
SADDLE CAM PIN and ROLLER
Replaces the 2 bearings that transfer motion to the gripper opening cam. Both parts are made of A-11 Graphitic Air Tool Steel. The pin has a oil hole and land to allow lubrication between the roller and pin.
Pin $164.00
Roller $54.00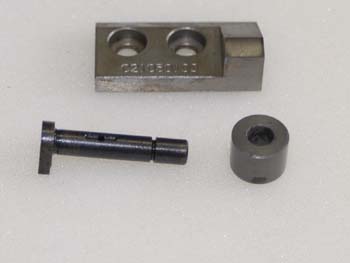 Rear gripper segment mounting post. _________$125.00

C21050083 SADDLE UPPER GUIDE POST (takes M03010007 Bearing)
$127.00
This post is made with a larger hex as a base. This prevents the post from rocking and wearing out the mounting hole.
C23050069 SADDLE UPPER GUIDE POST (takes M03010010 bearing) New style, we also carry the older style for the saddle with out the spring loaded grippers.
H & H makes this part with a larger hex to allow more support on the saddle casting. The OEM parts will dig into the casting over time and break out the retaining collar. $127.00

C23050050 C-21 SADDLE GRIPPER SPRING POST $112.00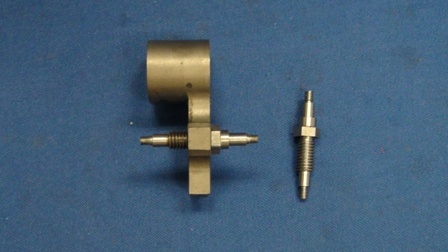 SADDLE DRIVE ARM C21050058 AND BOLT $170.00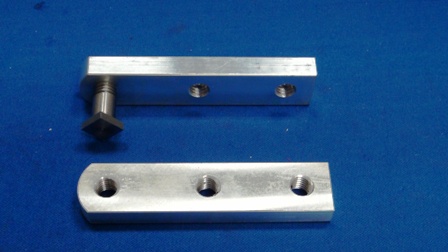 STAPLERS
C20070021 WIRE ADVANCE ARM (PAWL) $78.00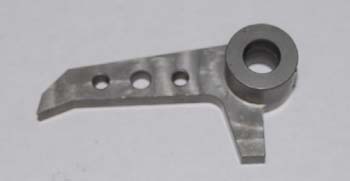 C20070058 RATCHET WHEEL $210.00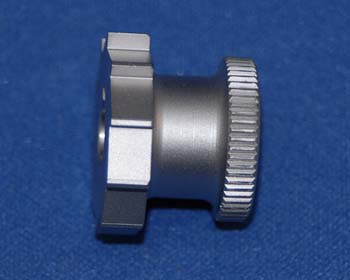 C20070066 UPPER STAPLE WIRE GUIDE $168.00
Note: Guide is hardened and precision ground.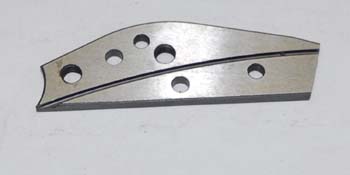 C20170009 WIRE FEED ROLLER CASTING
This replacement part is machined out of a solid block of T-6 6061 aluminum. It is much stronger than the OEM cast part and will allow more stability for the feed roller when installed. $765.00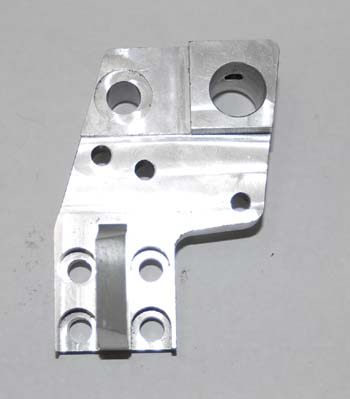 C20810001 Upper and LOWER bushing for main stapler tube pivot shaft.
Sold as a set $238.00 Upper sold singular $108.00 Lower sold singular $156.00.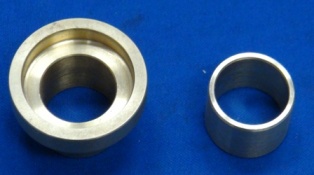 C20070014 STAPLE WIRE ROLL GUIDE BUSHING
Direct replacement. Will press fit into the holder mounted on the spring steel
That guides the wire off the roll $25.00
C20070063 STAPLE BRAKE MOUNT
As can be seen in the photograph, the older style arms (left side) will wear a eliptical hole where the phenalic brake comes in contact with the feed wheel. H & H can repair your damged arm by machining and then installing a metal sleeve (right side). This prevents the part from ever wearing out again $189.00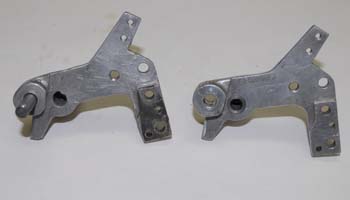 C20070116 BUSHING for staple tube alignment.
H & H makes these bushings in standard and .01mm oversize from .01mm to .04mm. These oversize inserts will take up the play in tubes where the alignment slot is worn. $25.00 each
E04010016 PRODUCT MISSING SENSOR FOR STAPLE WIRE AND STRING. $98.00. Includes ceramic insert wear surface for long life.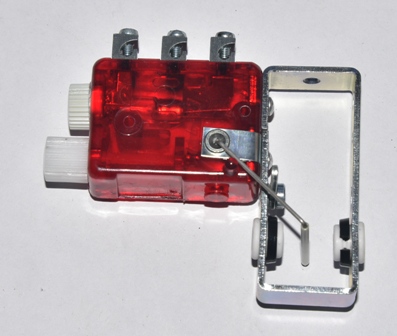 TAG PAPER & WHEEL GROUP
C20160018 TAG GRIPPER CAM (for large tag wheel)
H & H provides a cam system that comes in two parts. A hub made of steel and a cam plate made of hardened and ground tool steel. Once the hub is mounted on the drive shaft it does not need to be removed from the machine to install or change the cam plate. The cam plate is simply bolted to the hub. This allows the cam plate to be removed and replaced when it is worn, with a minimum of trouble and time. Since the cam plate is a separate part it is made from a very wear resistant tool steel and hardened over the entire surface to 64 Rockwell C.
Hub and 1 cam plate $398.00
Additional cam plates $196.00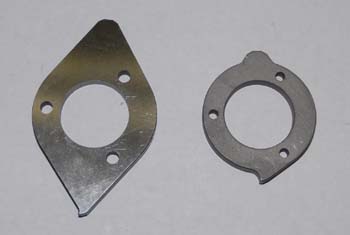 C20060259 TAG GRIPPER CAM (for small tag wheel
Hub and 1 cam plate $398.00
Additional cam plates $196.00
C20060261 TAG GRIPPER CAM PIN (C-21)
This part is also hardened and will give best results when used with the H & H cam plate unit. $19.00
C21420003/4/5/6/7 EMPTY TEA BAG SENSOR UNIT FOR C-21
H & H makes a empty tea bag sensor unit to replace the plastic and aluminum OEM IMA parts. The base block, shaft and guide collar are all made from 01 tool steel and hardened to 64 Rockwell. Assembly includes the retaining nut for the collar, a steel guide screw and the nylon spacing washer.
1 unit includes the shaft, base block, guide collar, retaining nut, guide screw and impact washer. $475.00
extra impact washers (C21420003WASH) $2.50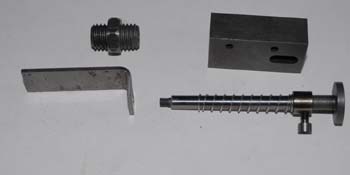 C21420020 SENSOR MOUNTING BRACKET $78.00

STRING INSERTER FOR C-21 (C20060335) and C-23 (MC23660001). Will work on both machines. $50.50
H&H string insert needles are made of heat treated oil hardening tool steel and have been machined with a full radius on the front edge. The rear edge has been chamfered to allow the string to slip off with out binding. This part will improve insertion on the C-21 machines and will allow full speed running on the C-23 machines.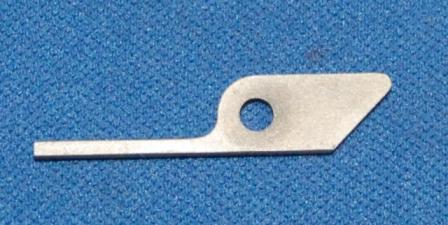 Insertion needle pin $42.00
Inserter with pin installed $90.50
This pin has a recess at the base to allow the inserter to sit flat asginst the head. It is hardened to the sasme stength as the inserter and will provide increased wear time.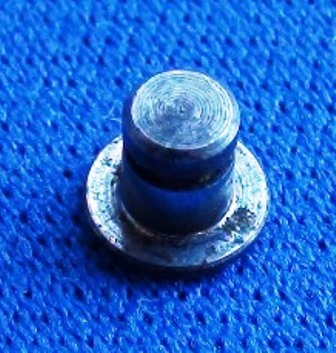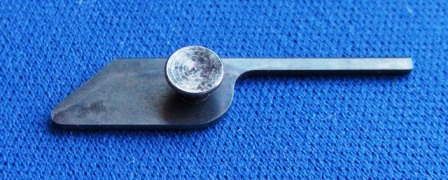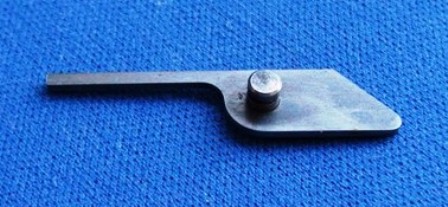 C20060334 STRING INSERTION NEEDLE HOLDER $373.00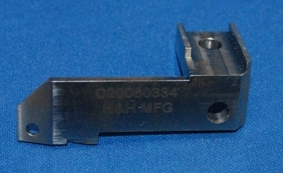 C20060308 ALIGNMENT FORK & C20060309 TUBE
Made from tool steel and hardened to 64 Rockwell. Allows 0.05mm clearance between fork and bushing. $538.00 SET PRICE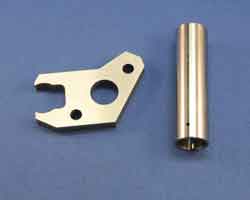 C1001002 Tag Roll Brake Arm H & H can repair your old arm. The solid activation tang that wears down, is milled off and a new bracket that holds a ball bearing is installed. The bearing now rides on the cam preventing the cam from wearing out and provides improved control for the brake and tag paper roll. $475.00 with Exchange of old arm.
Includes bearing mounting arm, screw and spacer.
C23060300 Mounting arm only $146.00
Bearing M03010132
C20060214 Brake Cam $130.00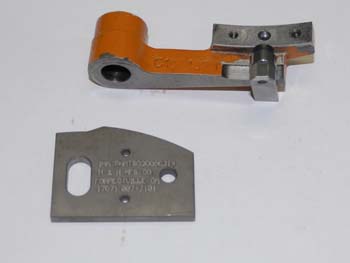 C20060173 Tag paper rubber pressure roller advance shaft with gear $406.00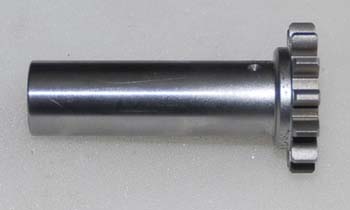 TRANSFER GROUP 6:00 POSITION
C20F00753 EXTRACTION GRIPPER. (6:00 POSITION)
H & H makes this part in three pieces. It consists of a left arm, hub and right arm. When the left arm breaks (as is normally the case), it can be easily replaced with a replacement part. The parts are all made from solid billet aluminum and have a higher wear factor then the cast IMA part.
1 set of all three parts $255.00
Replacement arms $75.00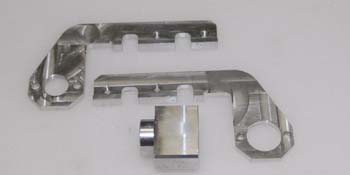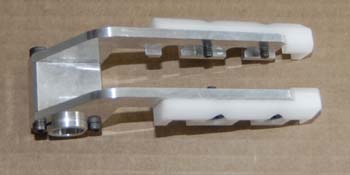 C20F748-002/C20F747-002 TRANSFER GRIPPER LINERS FOR C-21 GRIPPER C20F00753 $70.00 PER SIDE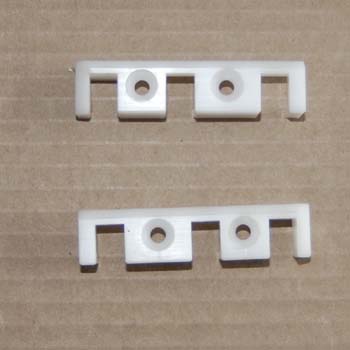 Transfer gripper set. includes hardened moving finger, stationary finger, pins, retaining plate, clevis ends, shaft and all related hardware. $1500.00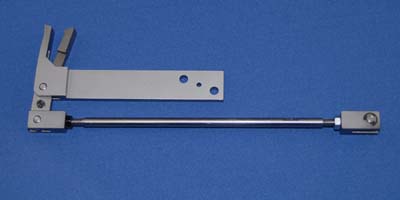 C20160017 TAG GRIPPER $95.00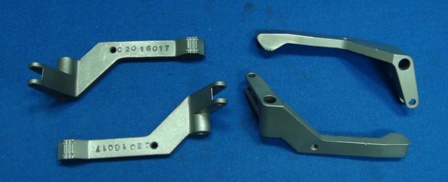 TAG GRIPPER PINS WITH GROOVE FOR LUBRICANT $9.25 Eea.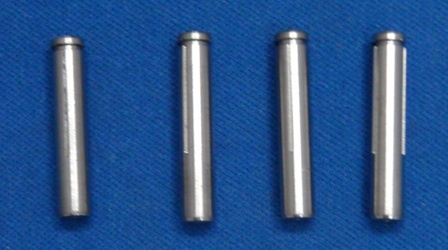 C20160016 NEW TAG WHEEL KNIFE FOR LATE MODEL MACHINES WITH LARGE WHEEL $346.32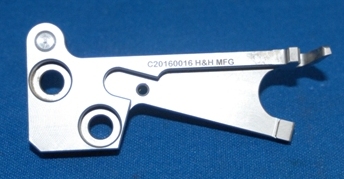 C20060258 NEW TAG WHEEL KNIFE FOR OLDER MACHINES WITH SMALL TAG WHEEL $346.32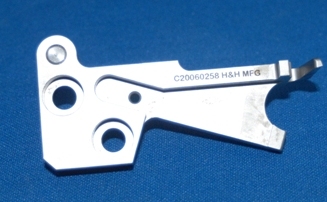 C20060261 TAG GRIPPER PIN $9.30
H & H has the following used and resharpened knives for direct purchase
C20060191 Moving Tag Knife $78.35
C20080120 Mobile Overwrap $125.00
C21040051 Fixed Filter Paper $65.00
C21040052 Moving Filter paper $65.00
20160016 Fixed String $180.00
C20080121 Fixed Over Wrap $82.00
H & H has the fixtures and necessary grinding machines to re-sharpen most knives used on the IMA C-21 and C-23 machines. This includes,
IMA C-21
C20060191 MOBIL TAG PAPER $45.00
C20060304 MOBILE STRING $45.00
C20060345 FIXED TAG PAPER (both sides) $55.00
C20080120 MOBILE OVER WRAP $45.00
C20080121 FIXED OVER WRAP (both sides) $55.00
C20160016 TAG WHEEL $65.00
C21040051 FIXED FILTER PAPER (both sides) $65.00
C21040052 MOBILE FILTER PAPER (both sides) $65.00
H & H CAN REPAIR THE FOLLOWING PARTS FOR A FRACTION OF THE NEW COST. IN EACH CASE THE BROKEN PART SHOULD BE SENT TO H & H FOR EVALUATION AND FINAL COST QUOTE
Saddle Guide Bearing Post repair. Includes step block made from steel with a tapped 4mm hole for a set screw or tapered pin installation. (Bearing post can be included at an additional charge) ________ $1400.00
Note the condition of the sasddle before repair.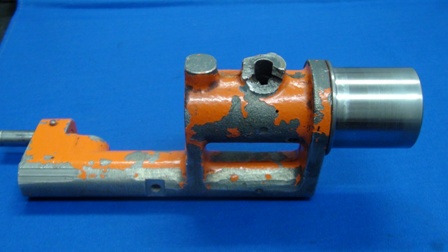 . Saddle after repair and new insert is in place along with a new bearng post.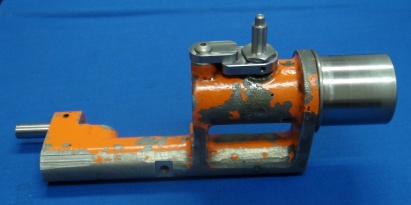 Saddle front face reconditioning. Includes new gripper segment support post, wear shim and taped hole installed to retin post or hold in place if tappered pin is desired. $560.00
Front of saddle showing typical wear marks and worn out gripper segment support pin.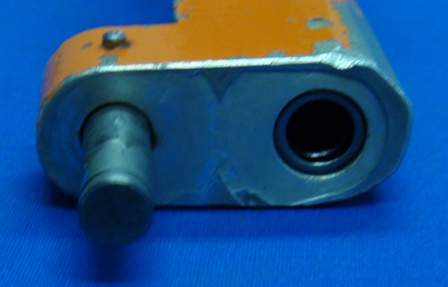 Saddle after machining with new pin in place.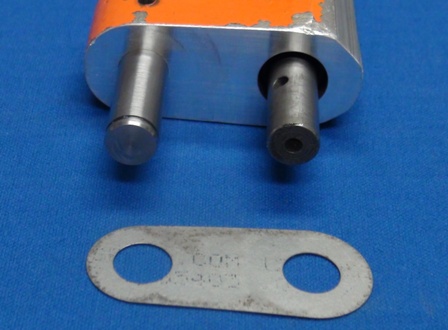 Saddle with new segment support post and wear shim in place to prevent future wear.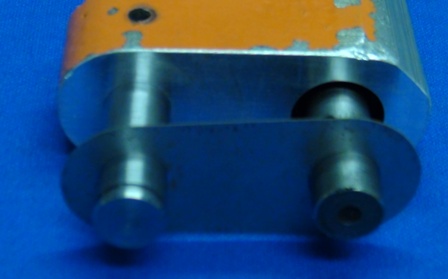 SADDLE GRIPPER CONTROL ARM C23050049
A new tip can be installed on the control arm allowing the gripper segment to be pined in the proper place. $397.00 includes modification of arm and installation of tip.
New tip installed on an arm already machined $288.00
Old control arm with hole from gripper segment.

Control arm after repair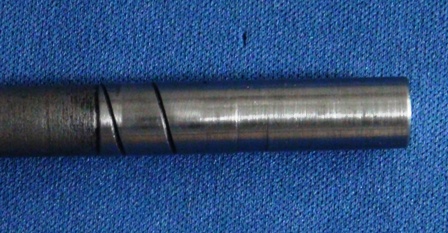 C21450010MOD CARTONER BAG SUPPORT ARM
Modification consists of removing the broken fingers from the arm and installing a shelf for a replaceable finger to be mounted.
ARM MODIFICATION $350.00 (INCLUDES THREE FINGERS)
ADDITIONAL FINGERS
C2145001FING $75.00
C20080059 BRASS TUBE CLAMP (EXTRACTION GRIPPER)
C20080064 BRASS TUBE CLAMP (OVER WRAP FORK)
The tang mounted on the clamp is machined to accept a brass insert. This insert is then riveted into place. When the insert wears out, the rivets can be removed and a new insert is installed. The insert is made from 954 aluminum bronze and has a longer wear factor then the cast bronze IMA part.
CLAMP MODIFICATION $194.00 (INCLUDES MOUNTED INSERT)
ADDITIONAL INSERTS WITH RIVETS $105.00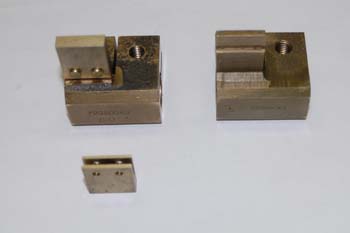 C21050072-C21050062-C21050076 SADDLE CASTING
This casting can be machined to remove the grooves that are worn in by the control collar. Both the casting and a control collar need to be sent together for a matched machined fit.
C20620031 SEALER JAW POWER ARM TIE ROD
The worn out surface of this part can be machined to accept a sleeve that is locked in place. When the sleeve wears out, it is removed and replaced with a minimum of time and cost.
Repair of part and installation of sleeve. $295.00
Additional sleeves $155.00
C20070037 OUTTER STAPLE TUBE REPAIR.
As the bushing and alignment slot on the bottom of the tube wears out, the staple assembly will rotate and not allow the staple to match up with the anvil. To repair the tube, a oversize slot is cut and a hardened steel replacement insert is riveted into place. When the insert wears out, it is easily replaced by removing the rivets and installing a new part.
Machining of tube. $755.00
Insert (includes rivets and a bushing precision ground to fit) $455.00
Installation of new insert in a tube previously machined $185.00

Sealer Jaw power arm spring spanner wrench $125.00
Center wheel seal and piston bushing installation bar $87.00
C-23 sealer box seal installation C232C0105 $135.00
C-21 Air Exchanger Body Seal Tool (3 parts) $344.00
Power arm shaft rebuild
H & H can repair your worn out arm for 1/4 of the price of a new arm.
Send your worn out part to us for evaluation and if possible to repair. We will inspect it and if repairable, return it to you as good as new. $385.00
BEFORE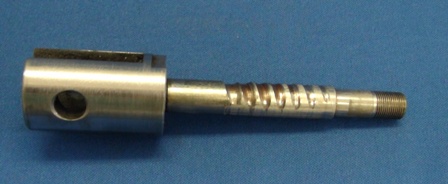 AFTER